Conditions - Toenail Fungus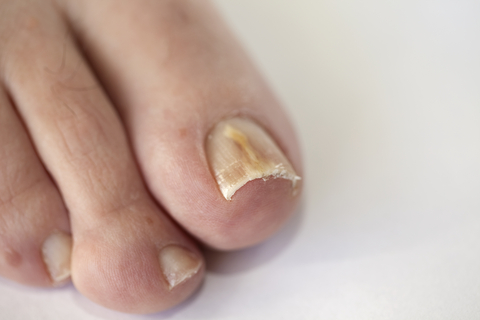 When is Foot Surgery Necessary?
Many foot problems do not respond to "conservative" management. Your podiatric physician can determine when surgical intervention may be helpful. Often when pain or deformity persists, surgery may be appropriate to alleviate discomfort or to restore the function of your foot.
Bunions
A common deformity of the foot, a bunion is an enlargement of the bone and tissue around the joint of the big toe. Heredity frequently plays a role in the occurrence of bunions, as it does in other foot conditions. When symptomatic, the area may become red, swollen, and inflamed, making shoe gear and walking uncomfortable and difficult. If conservative care fails to reduce these symptoms, surgical intervention may be warranted. Your podiatric physician will determine the type of surgical procedure best suited for your deformity, based on a variety of information which may include X-rays and gait examination.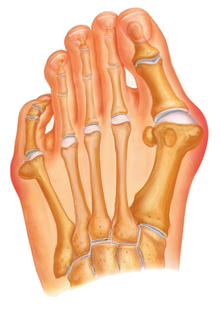 Tailor's Bunion is shown above -- red area on the left. The red area to the right is an example of a bunion.
Hammertoes
A hammertoe deformity is a contracture of the toe(s), frequently caused by an imbalance in the tendon or joints of the toes. Due to the "buckling" effect of the toe(s), hammertoes may become painful secondary to footwear irritation and pressure. Corn and callus formation may occur as a hammertoe becomes more rigid over time, making it difficult to wear shoes. Your podiatric physician may suggest correction of this deformity through a surgical procedure to realign the toe(s).

Hammertoe
Neuroma
An irritation of a nerve may produce a neuroma, which is a benign enlargement of a nerve segment, commonly found between the third and fourth toes. Several factors may contribute to the formation of a neuroma.
Trauma, arthritis, high-heeled shoes, or an abnormal bone structure are just some of the conditions that may cause a neuroma. Symptoms such as burning or tingling in the ball of the foot or in the adjacent toes and even numbness are commonly seen with this condition. Other symptoms include swelling between the toes and pain in the ball of the foot when weight is placed on it.
Those suffering from the condition often find relief by stopping their walk, taking off their shoe, and rubbing the affected area. At times, the patient will describe the pain as similar to having a stone in his or her shoe.
Your podiatric physician will suggest a treatment plan. If conservative treatment does not relieve the symptoms, then your podiatric physician will decide, on the basis of your symptoms, whether surgical treatment is appropriate.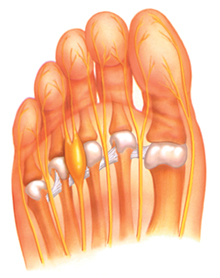 A neuroma is shown above--inflamed yellow area in the middle left region.
Bunionette (Tailor's Bunion)
A protuberance of bone at the outside of the foot behind the fifth (small) toe, the bunionette or "small bunion" is caused by a variety of conditions including heredity, faulty biomechanics (the way one walks) or trauma, to name a few. Pain is often associated with this deformity, making shoes very uncomfortable and at times even walking becomes difficult. If severe and conservative treatments fail to improve the symptoms of this condition, surgical repair may be suggested. Your podiatric physician will develop a surgical plan specific to the condition present.
Bone spurs
A bone spur is an overgrowth of bone as a result of pressure, trauma, or reactive stress of a ligament or tendon. This growth can cause pain and even restrict motion of a joint, depending on its location and size. Spurs may also be located under the toenail plate, causing nail deformity and pain. Surgical treatment and procedure is based on the size, location, and symptoms of the bone spur. Your podiatric physician will determine the surgical method best suited for your condition.
Preoperative Testing and Care
As with anyone facing any surgical procedure, those undergoing foot and ankle surgery require specific tests or examinations before surgery to improve a successful surgical outcome. Prior to surgery, the podiatric physician will review your medical history and medical conditions. Specific diseases, illnesses, allergies, and current medications need to be evaluated. Other tests that help evaluate your health status may be ordered by the podiatric physician, such as blood studies, urinalysis, EKG, X-rays, a blood flow study (to better evaluate the circulatory status of the foot/legs), and a biomechanical examination. A consultation with another medical specialist may be advised by a podiatric physician, depending on your test results or a specific medical condition.
Postoperative Care
The type of foot surgery performed determines the length and kind of aftercare required to assure that your recovery from surgery is rapid and uneventful. The basics of all postoperative care involve to some degree each of the following: rest, ice, compression, and elevation. Bandages, splints, surgical shoes, casts, crutches, or canes may be necessary to improve and ensure a safe recovery after foot surgery. A satisfactory recovery can be hastened by carefully following instructions from your podiatric physician.
What Is Toenail Fungus?
Toenail fungus, or onychomycosis, is an infection underneath the surface of the nail caused by fungi. When the tiny organisms take hold, the nail often becomes darker in color and smells foul. Debris may collect beneath the nail plate, white marks frequently appear on the nail plate, and the infection is capable of spreading to other toenails, the skin, or even the fingernails. If ignored, the infection can spread and possibly impair your ability to work or even walk. The resulting thicker nails are difficult to trim and make walking painful when wearing shoes. Onychomycosis can also be accompanied by a secondary bacterial or yeast infection in or about the nail plate.
Causes
Because it is difficult to avoid contact with microscopic organisms like fungi, the toenails are especially vulnerable around damp areas where you are likely to be walking barefoot, such as swimming pools, locker rooms, and showers, for example. Injury to the nail bed may make it more susceptible to all types of infection, including fungal infection. Those who suffer from chronic diseases, such as diabetes, circulatory problems, or immune-deficiency conditions, are especially prone to fungal nails. Other contributing factors may be a history of athlete's foot and excessive perspiration.
Symptoms
Toenail fungus is often ignored because the infection can be present for years without causing any pain. The disease is characterized by a progressive change in a toenail's quality and color, which is often ugly and embarrassing.
Home Treatment
A daily routine of cleansing over a period of many months may temporarily suppress mild infections. White markings that appear on the surface of the nail can be filed off, followed by the application of an over-the-counter liquid antifungal agent. However, even the best over-the-counter treatments may not prevent a fungal infection from coming back.
When to Visit a Podiatrist
You should visit a podiatrist when you notice any discoloration, thickening, or deformity of your toenails. The earlier you seek professional treatment, the greater your chance at getting your nails to clear.
Diagnosis and Treatment
Treatments may vary, depending on the nature and severity of the infection. Your podiatrist can detect a fungal infection early, culture the nail, determine the cause, and form a suitable treatment plan, which may include 1) laser, prescribing 2) topical or 3) oral medication, and/or 4) debridement (removal of diseased nail matter and debris) of an infected nail.
1) Laser therapy of toenail fungus is the latest Food and Drug Administration (FDA) approved innovation in treatment. Clinical studies show over 80% of patients have significant improvement. To find out more details, visit the Laser Toenail Fungus Treatment page on this website.
2) Your podiatrist may also prescribe a topical treatment, which can be an effective treatment modality for fungal nails. Unfortunately, the clinical studies show them to be less effective.
3) Newer oral antifungals, approved by the Food and Drug Administration (FDA), are also an effective treatment. They offer a shorter treatment regimen of approximately three months and improved effectiveness.
4) In some cases, surgical treatment may be required. Temporary removal of the infected nail can be performed to permit direct application of a topical antifungal. Permanent removal of a chronically painful nail that has not responded to any other treatment permits the fungal infection to be cured and prevents the return of a deformed nail.
Trying to solve the infection without the qualified help of a podiatrist can lead to more problems. With new technical advances in combination with simple preventive measures, the treatment of this lightly regarded health problem can often be successful.
Prevention
Proper hygiene and regular inspection of the feet and toes are the first lines of defense against fungal nails.
Clean and dry feet resist disease.
-Wash your feet with soap and water, remembering to dry thoroughly.

-

Wear shower shoes when possible in public areas.

-Change shoes, socks, or hosiery more than once daily.

-Clip toenails straight across so that the nail does not extend beyond the tip of the toe.

-Wear shoes that fit well and are made of materials that breathe.

-Avoid wearing excessively tight hosiery to decrease moisture.

-Wear socks made of a blend of fibers that "wicks" moisture away from your feet faster than all cotton or wool socks do.

-Disinfect instruments used to cut nails.

-Disinfect home pedicure tools.

-Don't apply polish to nails suspected of infection (those that are discolored, for example).